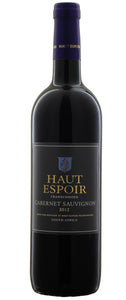 Vineyard
SOURCE: This 2012 Cabernet Sauvignon was produced from fully ripened grapes harvested from Haut Espoir in the Franschhoek region.
WEATHER: Prior to ripening, the conditions were extremely dry. This however ensured great quality Cabernet Sauvignon and Shiraz.
HARVESTING: The grapes were hand harvested in the coolness of early morning on the 4th of April.
Cellar
VINIFICATION: After de-stemming, only 20% of grapes were crushed slightly. The rest were kept whole cluster. All grapes were transferred to open plastic fermenters. Skin contact was done for 3 days, after which some bins were inoculated with yeast and the rest underwent wild fermentation. Malolactic fermentation started spontaneously. Wine was matured for 43 months in French oak barrels.
Tasting & Analysis
TASTING NOTES: The dominant fruits on the palate are cranberries and plums. The tannins are silky smooth and integrated with oak notes to support the palate and round off this elegant wine.
FOOD ACCOMPANIMENT: Red meat especially lamb, game birds, rich meaty casseroles, chargrilled meat or game.
TECHNICAL ANALYSIS: alc. 14.23% - pH 3.60 - Total acid 4.6 g/l - Residual Sugar 3 g/l
PRODUCTION: 2 700 bottles