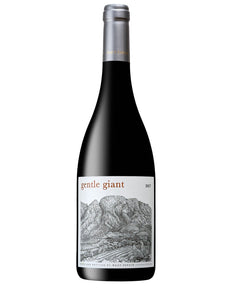 Vineyard
SOURCE: The grapes for this year's blend were sourced from Haut Espoir and neighboring Franschhoek farms.
HARVESTING: 2017 was an extremely dry growing season, resulting in a small crop. But we were enthusiastic about quality, noting that the wines are rich and concentrated due to the smaller berries, while on the more elegant side stylistically, thanks to even and moderate temperatures throughout the season
Cellar
VINIFICATION: A total of 5 cultivars were used in this blend. The components were fermented separately in open top fermenters, some batches undergoing wild fermentation. Post fermentation maceration lasted for 1 month before pressing and transferring to older oak French barrels. The components were aged for 30 months in barrel before blending and bottling.
Tasting & Analysis
TASTING NOTES: 5 red varietals that have been meticulously blended and aged to create the 2017 vintage of our mighty Gentle Giant. Black cherry aromas wrapped in warm spices and tobacco leaves feature in our multilayered deep ruby gem. This vintage contains the sophistication of an older wine accompanied by a complex and fine tannin structure which is our "not so secret" secret ingredient to our super age-able wines.
FOOD ACCOMPANIMENT: This blend of spice and smoke is ideal to pair with Malay style curry, smoked meat or take the edge of your hearty pasta.
TECHNICAL ANALYSIS: alc. 14.62% - pH 3.55 - Total acid 5.9 g/l - Residual Sugar 1.81 g/l
PRODUCTION: 32 242 bottles