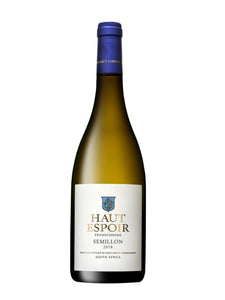 Vineyard
SOURCE: This 2018 Semillon was produced from single vineyard vines sourced from a neighboring farm in the Franschhoek valley.
WEATHER: Prior to ripening, the conditions were hot and very dry.
HARVESTING: The grapes were hand harvested in the coolness of early morning on the 15th of February, then transported back to the cellar under cold conditions to retain freshness.
Cellar
VINIFICATION: After de-stemming, the grapes underwent overnight skin contact and were pressed the next day. The juice was settled in stainless steel tank for 2 days before racking to older 225L barrels for fermentation, 2% lees was added to the barrels with transfer. After fermentation, Malolactic fermentation was done, and wine was left on gross lees for a month to add mouthfeel.
After racking off gross lees, the wine matured a further 11 months in barrel before bottling.

Tasting & Analysis
TASTING NOTES:Typical of Franschhoek Semillon, the nose is floral with hints of lime and citrus. The overall creamy mouthfeel due to the time on gross lees and barrel ageing is balanced with chalky minerality. The finish is complex with lingering nutty aromas.
FOOD ACCOMPANIMENT: Semillon is best enjoyed chilled as an aperitif at any time of the day. It can be partnered with a wide range of foods and snacks, such as stir-fries and lighter curries. It is released ready to drink and will continue to develop in the bottle.
TECHNICAL ANALYSIS: alc. 12.55% - pH 3.24 - Total acid 5.02 g/l -Residual Sugar 1.5 g/l

PRODUCTION: 1 984 bottles