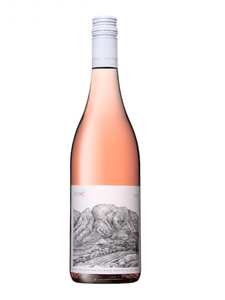 SOURCE: The grapes for this rosé were sourced from a neighbouring Franschhoek farm in the Bo-Hoek valley.
WEATHER: This growing season was characterised by cooler, wetter conditions extending into a more moderate summer resulting in slower ripening.
HARVESTING: The shiraz grapes were hand harvested in the coolness of the early morning of the 9th of March, transported back to the cellar under cold conditions to retain freshness.
VINIFICATION: The 100% shiraz rosé was whole bunch pressed, then gently fermented cool in a stainless-steel tank before bottling. This wine is vegan friendly.
TASTING NOTES: Light berry and cassis aromas accompany a pallet of red cherries, with firm acidity and a velvety finish. This all seasons wine can be enjoyed crisp and cool or even a little warmer, paired with a variety of dishes.
TECHNICAL ANALYSIS: alc. 13.4% - pH 3.41 - Total acid 5.7 g/l -Residual Sugar 1.1 g/l