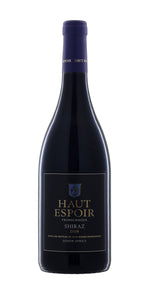 Vineyard
SOURCE: This 2008 Shiraz was produced from fully ripe grapes harvested from Haut Espoir in the Franschhoek region.
WEATHER: Prior to ripening, the conditions were cool and dry, a few hot patches just before harvesting led to the development of excellent flavours on the vine.
HARVESTING: The grapes were hand harvested in the coolness of early morning on the 13th March 2008.
Cellar
VINIFICATION: After de-stemming and partial carbonic maceration the whole berries were fermented to dryness over 8 days in small open fermentation tanks. After a five day Post fermentation maceration period, the wine underwent malolactic in new and second fill French Oak barrels, and matured for 12 months. Left to settle in tank before bottling, this wine underwent a light filtration at bottling.
Tasting & Analysis
TASTING NOTES: This Shiraz shows firm tannins.  The dominant characters are blueberries and cherry with crushed pepper on the nose. Complexity is added from sensitive oaking and barrel maturation.
FOOD ACCOMPANIMENT: Rich stews, barbecued meat and matured hard cheeses. This wine is released ready to drink and will develop further with bottle ageing.
TECHNICAL ANALYSIS: Alc. 13.3% - pH 3.67 Total acid 5.1 g/l Residual Sugar 3.8 g/l
PRODUCTION: 4960 bottles